Coming Soon from Ann:
Ann recently signed a contract with Barbour Books for a novella (working title State of Matrimony) in their upcoming Oregon Trail Romance Collection, releasing April, 2015! She's especially pleased to participate in this collection, since her great-grandparents came west over the Oregon Trail in the latter part of the 1800's.
New from Ann...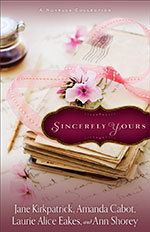 Sincerely Yours - A Novella Collection
Featuring Lessons in Love by Ann Shorey


In this collection of brand-new historical novellas from authors Jane Kirkpatrick, Amanda Cabot, Laurie Alice Eakes, and Ann Shorey, four young women find their lives altered after each receives a letter that sets her on a new path toward a changed life–and perhaps lifelong love.
From a Hudson River steamboat to a lush drawing room, from a carousel carver's workshop to a remote and controversial hospital, readers will love being swept into the lives of four young women who are making their way in the world and finding love where they least expect it.
In Ann's story, Lessons in Love, shy Merrie Bentley prefers to spend her days writing marriage advice for Kipler's Home Weekly, under the pseudonym of Mr. M. M. Bentley. She avoids her aunt's attempts at matchmaking as deftly as she crafts her articles.
When a letter arrives from the editor of the magazine requesting a face-to-face meeting, she convinces her piano teacher, Colin Thackery, to pose as M.M. Bentley and attend the meeting in her stead.
After the meeting, she's forced to spend time with Colin as he attempts to remember the specifics of the publisher's requests. Romance blooms between them, but since Colin believes he's beneath her social level, and her aunt is relentless in introducing her to Chicago's elite bachelors, chances that Merrie and Colin will wed are dim. Can their piano lessons become lessons in love?

Sisters At Heart Series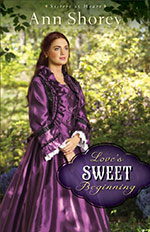 Love's Sweet Beginning - Book Three

See the SWEET BEGINNINGS Sweepstakes Winners
It isn't Cassie Haddon's fault she's managed to reach the age of twenty-five without possessing any useful skills.
Until the war, she always had servants to wait on her. After the war, she and her widowed mother moved from place to place, relying on family to care for them.
Now she's forced to find work to support them both. What isn't in her plans is falling for Jacob West, a local restauranteur and grocer. She needs a job and he needs help. But can either of them see their need for love?
Don't miss this tale of two people, from very different backgrounds, finding common ground and the hopes of a bright future together.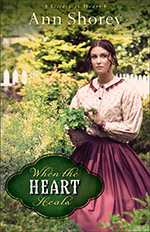 When the Heart Heals - Book Two
Take the Rosemary's Kitchen Quiz
Courageous and unconventional, Rosemary Saxon served as a nurse during the Civil War, a service that has caused most women in town to regard her as unfeminine and downright vulgar. Although she would like to put her experiences as a nurse behind her, she must support herself.
Rosemary takes a position with Dr. Elijah Stewart and a mutual attraction begins to develop. But when a sophisticated woman arrives in town claiming to be Elijah's fiancée, a heartbroken Rosemary decides to leave Noble Springs and start fresh. Can Elijah convince her of the mystery woman's deception before he loses her forever?
Return to the town of Noble Springs, Missouri, for an engrossing story of love's tentative first steps and fragile future in the face of opposition. Readers will find in Rosemary a sympathetic but strong woman determined to thrive in a world that doesn't always understand.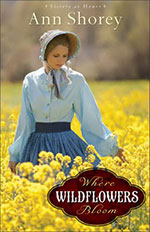 Where Wildflowers Bloom - Book One
Watch a Video Interview about the Book (scroll down)
The War Between the States stole a father and brother from Faith Lindberg-- as well as Royal Baxter, the man she wanted to marry.
With only her grandfather left, she dreams of leaving Noble Springs, Missouri, and traveling west to Oregon to start a new life, away from the memories that haunt her.
But first she must convince her grandfather to sell the family's mercantile and leave a town their family has called home for generations.
When Royal Baxter suddenly returns to town, Faith allows herself to hope that her dreams might come true. Does he truly love her? Or could another man claim her heart?
Will she find that following her dreams may not mean leaving home after all?

At Home in Beldon Grove Series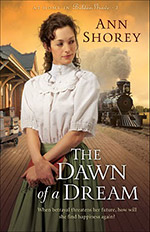 The Dawn of a Dream - Book Three
Twenty-two-year-old Luellen O'Connell is stunned and confused when her husband of just one month tells her he is leaving her. Deeply wounded by this betrayal, Luellen decides to follow the dream she had set aside of obtaining a teaching degree.
More than anything, she wants to teach children in communities like hers and help them recognize that education opens a path to future possibilities. But her wayward husband left something behind when he abandoned her. Can Luellen overcome the odds and achieve her dream? Can she hide her secret, or will it destroy her dreams forever?
A moving story of tenacity and perseverance in the face of opposition, The Dawn of a Dream will inspire readers to discover and follow their own dreams.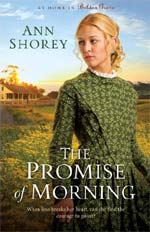 The Promise of Morning - Book Two

Ellie Craig grieves the loss of three infant children, and when long-hidden secrets are brought to light, she must find a way to contact the family of her long-lost father. Meanwhile her husband, Matthew, faces controversy in his church and competition from a new arrival in Beldon Grove, who claims to be both a minister and the son of the town's founder. Will Matthew find the courage to reclaim his church? And will his unexpected travel companion help Ellie's heart mend?
The Promise of Morning addresses themes of overcoming tragedy, finding strength to meet daunting challenges, and trusting your heart to love again.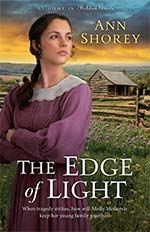 The Edge of Light - Book One
It is the summer of 1838 in St. Lawrenceville, Missouri, and Molly McGarvie's life is about to change forever. When her beloved Samuel succumbs to cholera, Molly is heartbroken but determined to take care of herself and her children. But when Samuel's unscrupulous brother takes over the family business and leaves Molly to fend for herself, she knows she must head out on her own. It is a dangerous journey and Molly has to leave her old life behind. Somehow she must find a way to make a living, keep her family together, and fend off some over-eager suitors.
Affiliate Notice: AnnShorey.com is a participant in the Amazon Services LLC Associates Program.